Building a Stronger Family
LSI's Early Childhood Services empower young parents to build a bright future for their children.
Danikah was a happy, playful toddler. But things began to change when her baby brother, Parker, was born.
"In the hospital, she was happy to see him. But I don't think she fully understood what was happening," says Danikah's mom, Stacy. "When everyone was home, she just wanted him to go away. It was a pretty hard adjustment, especially since she went from having her own room to sharing one with a baby."
Stacy found out about LSI's New Parent Program shortly after Parker was born, and she hoped it could help her daughter adjust to the new changes at home.
The New Parent Program is part of LSI's Early Childhood Services. It is a free, voluntary program that provides support and education to families during and after pregnancy.
Through the program, Stacy gets to meet other moms and families in her community, and her daughter gets to interact with other children who have siblings.
"Now, she can look at them and see how they interact and share toys with their siblings, and she's starting to understand," Stacy says.
The New Parent Program also helps Stacy adjust to Danikah and Parker's developmental stages. Through the program, Stacy has learned how to potty train Danikah and manage her daughter's temper tantrums.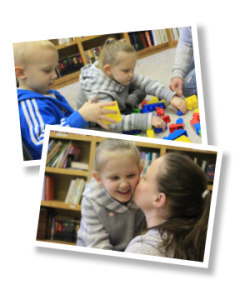 At home, Stacy and her children receive regular visits from their New Parent Program worker, Lori. Each week, she brings creative new crafts Stacy can make from materials around the house.
Danikah, now 5, is always eager to learn a new activity with Lori during each visit. She's even starting to share her homemade toys with Parker.
"The New Parent Program is fun for the kids, but you can also do things together as a family," Stacy says. "You get that time with your child, and you're building a better relationship in the process."
LSI supports and empowers moms across the state. Here are some of the ways we served Iowa moms and women in 2016:
Number of home visits for young parents with infants, toddlers, and preschoolers
Hours helping children and families build skills for anger management, coping, and healthy decision-making
Total therapy sessions for children, families, and adults
Lutheran Day on the Hill 2017
Thank you to the LSI advocates who joined us at the Iowa State Capitol in Des Moines on February 21 for Lutheran Day on the Hill! 
Together, in record attendance, our voices were heard on issues impacting our refugee community, Iowa's most vulnerable kids and families, and water quality.
Special thanks to the three Iowa Synods of the ELCA, ELCA World Hunger, and Lutheran Services
in America.
We are grateful to everyone who stood together and lifted their voices on issues that matter to all of us. Thank you.
Our newest program: Host Homes!
What is a Host Home? A Host Home is a new way LSI is serving adult clients with disabilities. Through this program, an individual can move from Supported Community Living into a private family home. This is an exciting shared living opportunity that can help the people we serve thrive.
How do Host Homes work? Host Home mentors provide guidance, support, and care for the individuals living in their homes. The mentor assists the individual in making decisions about his or her life, planning, and goals, all while building a meaningful relationship with the person they are hosting.
How can Host Homes help? A Host Home can be a critical step forward for Iowans seeking more independence. A Host Home can provide them with:
■    A family environment
■    A natural support system
■    Better connections to their communities
■    A mentor instead of a staff member
■    Chances to learn responsibilities
■    Positive and lasting relationships
Find out more about Host Homes online at www.LSIowa.org/hosthomes or email us at hosthome@lsiowa.org.
Team LSI: The Passion Behind Our Work
Every member of LSI's 1,100-plus employee team has a personal mission and drive. The reason they come to work. The reason they spend long hours supporting Iowa's most vulnerable children and families. The reason they go above and beyond to respond to crisis situations and the toughest days with compassionate care.
We understand how critical it is to care for these amazing employees. Because we know that when we care for our staff, they provide better care for the people LSI serves. In 2016, we launched the myLSI myWHY movement. It's an LSI culture revolution! It will impact the way we recruit, train, recognize, and most importantly, support and celebrate the people who do the most important work.
LSI staff are encouraged to share their WHY with the team, and we want to share a few WHYs with you!
Our Mission: Lutheran Services in Iowa responds to the love of Jesus Christ through compassionate service.