---
Training Ground
Bremwood teens prep service dogs for veterans and children with autism.
Vachon, age 16, rested on the couch at Retrieving Freedom in Waverly, a black Labrador named Gabriel cuddled comfortably on his chest.
The two were taking a break from a morning training session, one of many to prepare Gabriel for his future life as an ADA-certified service dog.
What Gabriel didn't know is he was preparing Vachon for life, too.
Vachon was one of six teens at LSI's Bremwood Residential Treatment Center in Waverly to participate this past summer in a first-of-its-kind pilot program. A partnership between LSI, Retrieving Freedom and the Wartburg College Social Work Department, the program empowers teens at Bremwood to train service dogs for veterans and children with autism.
"I met Scott Dewey of Retrieving Freedom three years ago during a military culture class," said Dr. Susan Vallem, LSI clinical supervisor and professor emeritus at Wartburg College. "Scott was already training service dogs, and he suggested it would be great for youth at Bremwood."
During three sessions a week, Bremwood youth helped train dogs to heel, sit, open automatic doors and obey many other commands.
"It's wonderful for our teens," said Susan. "They are so focused knowing the dogs they train will go to help a veteran or a child with autism."
And that's important. Because focus isn't always easy for these teens.
Bremwood provides 24-7 mental health services for youth ages 13 to 18. Many, though not all, have experienced trauma from abuse, neglect or an unstable home environment. Some have been in involved in juvenile court, and others have lived in foster homes.
Training the service dogs inspires the teens to pursue excellence and, most importantly, reminds them they are deserving of it.
"The teens do an amazing job," Susan said. "It's wonderful motivation for them to keep doing well in other areas of their life, too."
As trainers, the teens learned positive life skills, like how to handle emotions. If a teen is having a "ruff" day, the canine student will, too.
" If you're grumpy, the dog will be grumpy," Susan said. "Our youth learn how to smile and relax. They learn how the dogs read emotion, and they begin to think more about their own emotions and of others, too. It's marvelous to see what happens. "
Research completed by students at Wartburg's Slife Social Work Institute and LSI shows dramatic improvements for participating youth. Self-harm and negative behaviors are reduced, while socialization and focus skyrocket.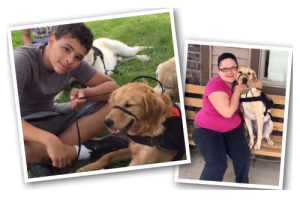 The end goal may be handing the leash over to a veteran or child in need, but it's a win-win for everyone involved.
And that's how Retrieving Freedom wants it.
"It takes two years for a service dog to fully mature and learn," said Scott. "During that time, we want to involve as many community partners and provide services to as many people as possible along the way."
Susan has presented on the program at the National Association of Social Workers' conference, sharing how this innovative approach differs from other therapeutic programs using service dogs. The program is unique to LSI, she said.
Innovation aside, it's also just doggone fun.
"This is the greatest class I've ever taken," said Vachon. "It's a good chance to help train the dogs and get close to them and best of all have fun while doing it."
Merry Christmas and Happy New Year from LSI!
All of us at LSI wish you a joyous holiday season! As we celebrate the gift of God's love, hope and peace for our world, we also give thanks for the many gifts you provided this year to Iowa children and families:
The gift of second chances for parents recovering from meth abuse
The gift of a forever family for a child in foster care
The gift of a garden for a Burmese woman
The gift of calm for a child struggling with anxiety
The gift of a healthy baby for a mom who received pre-natal home visits
The gift of self-worth for a girl at Bremwood
The gift of respite for people with memory loss and their families
The gift of community for a young man with an intellectual disability
The gift of English for a Bhutanese grandfather
The gift of a peaceful home for a family once in crisis
The gift of a safe space for a teen in shelter care
The gift of healing for a young child at Beloit
To make a year-end gift for another child or family, donate online today.
A Legacy of Love
In 1958, Betty and Jim Dexter made a life-changing decision: they adopted a baby boy through Lutheran Social Service of Iowa, now known as LSI. They later adopted two more children.
"LSI is the agency that made my life," said Betty.
Now, nearly 50 years later, Betty is leaving a legacy of love for other children and families through a planned gift to LSI's Charitable Foundation.
"Children are the most important thing," Betty said. "A lot of them don't have someone to help them. I support LSI to prevent more family struggles from happening in the next generation."
Thanks to friends like Betty, LSI celebrated a milestone this fall: the successful completion of our Celebrating Tradition. Building Futures. endowment campaign, which aimed to raise $12 million in cash gifts and planned gift commitments by 2015.
With the generous support and partnership of over 250 donors, churches, volunteers and the three Iowa ELCA Synods, the campaign total has reached over $13,500,000. This great news demonstrates how so many people believe in the mission and future of LSI, building on our 151 year legacy of compassionate service!
"This is news of tremendous joy and blessing," said Jason Lee, LSI vice president of philanthropy and church relations. "We give thanks to God and to all the faithful LSI supporters and partners who make it possible to continue this legacy of service to vulnerable Iowans far into the future."
All gifts and commitments made during the Celebrating Tradition. Building Futures. endowment campaign will be permanently endowed funds held at the LSI Charitable Foundation, which currently contributes over $400,000 per year to LSI. Since its inception in 1986, the LSI Charitable Foundation has contributed over $10 million to support LSI's mission and services.
The majority of funds committed during the campaign are planned gift commitments (gifts through a Will, estate plan or other future gift method), and once received are estimated to amount to over $20 million in assets held by the LSI Charitable Foundation. This will have an even greater impact for those LSI serves with an estimated $1 million per year to LSI from the LSI Charitable Foundation. These gifts will keep growing and giving far into the future!
That's exactly how Betty and so many others will leave a legacy.
"I once had a pastor tell me that whenever he sees a picture of me holding a baby, I'm smiling from ear to ear," she said. "Children are my special love in life."
For information about making a planned gift or to let us know you have included a gift to LSI in your Will or other estate plans, learn more here.
For questions, please contact Jason Lee at 515.817.0980 or jason.lee@lsiowa.org.
Save the Date for Lutheran Day on the Hill
Families living in poverty. Iowa children who go hungry. Former refugees building new lives.
Their needs are rarely the center of attention at the Iowa State Capitol.
Let's change that.
This is the year to raise your voice alongside your Lutheran brothers and sisters. To tell your elected officials what matters most.
Join LSI and the three Iowa synods of the ELCA for Lutheran Day on the Hill, an annual day of advocacy in Des Moines to uplift the needs of our neighbors. If you are new to advocacy, this is your chance to learn more about the legislative process and your role as a citizen. If you've attended before, join us again! We hope this year's schedule will also allow you more opportunities to connect with legislators.
Wednesday, Feb. 17
Visit LSI's Advocacy Page beginning Jan. 6 for: event details, online registration and an online toolkit for your congregation, including how to participate in this year's congregational letter-writing campaign.
Giving Children Safe, Stable Homes
Studies show keeping children in their homes and wrapping care around an entire family is among the best ways to keep kids safe from abuse and neglect and heal families. That's exactly what LSI's FSRP (Family, Safety, Risk and Permanency) teams do. Our FSRP services grew this year! In addition to our work in Northern Iowa, the Iowa Department of Human Services (DHS) also chose LSI to provide these services in Eastern Iowa. Here's a look at how FSRP helped one family find success and stay together: "This family came to attention after a local drug bust. Dad had used meth since age 14 and was now 31. Mom had used for a decade. They had one child, and both had held down jobs throughout their drug use. We provided supervised interaction with their child while in foster care, drove them to visits and supported them throughout extensive treatment. After many months, the case closed successfully. The family is now very healthy, they attend two to three sobriety meetings each week and the child is now safe in the care of his parents. I love this case because they had the cards stacked against them. Although they met normal road bumps of relapse, they continued to fight when many would have given up." – Sara, LSI caseworker
Make a Difference through the IRA Charitable Rollover
If you are age 70 ½ or older, you can give up to $100,000 directly from your IRA to charities such as LSI.
This tax-free gift opportunity was recently reinstated by President Obama and will now remain in effect for 2016 and beyond, which is great news. If you've already made a gift from your IRA this year, you're in luck! But if you haven't and you want to make sure your gift qualifies for 2015, you'll need to act by Dec. 31, 2015.
This is a special way to help children and families during the Christmas season. If you have any questions, please contact Jason Lee, vice president of philanthropy and church relations, at jason.lee@LSIowa.org or 515.817.0980.
You can make your gift by direct electronic transfer using the instructions below or have your IRA broker send a check directly to our mailing address listed below by Dec. 31, 2015.
Direct Transfer Instructions:
Have your broker transfer the IRA distribution/gift to Merrill Lynch DTC #5198, for further credit to LSI account # 660-04023
Merrill Lynch Contact Information
David Blake (515) 245-8050 or (800) 937-0608
Merrill Lynch, 400 Locust St., Suite 600, Des Moines, IA 50309
By Mail:
Lutheran Services in Iowa, P.O. Box 848, Waverly, IA 50677