Unite
Respect
Grow
Empower
Dear friend of LSI,
Now more than ever, LSI is relentless in our mission to serve Iowa children, adults, and families.
The human services landscape is changing in Iowa. We fight every day to ensure Iowans have access to the care they deserve. And we have nearly 900 compassionate employees who are fueled by the power of the human spirit and driven to create stronger Iowa communities.
Team LSI stands united, dedicated to tackling the difficult issues facing our most vulnerable neighbors.
Our job isn't done until every Iowa child has a safe, loving home; until every individual struggling with a mental illness has access to quality therapy; until every former refugee feels welcome in their new home; until every Iowan with a disability has the independence they need to thrive.
But none of this crucial work could happen without you. Thank you for your support of LSI and the Iowans we are privileged to serve.
With gratitude,
John Twardos,
LSI President and CEO
Your Compassion in Action in 2019

$160,000
EARNED BY FORMER
REFUGEE FARMERS IN LSI'S
GLOBAL GREENS PROGRAM

84%
OF YOUTH IN LSI'S RESIDENTIAL TREATMENT
SHOWED A DECREASE IN BEHAVIORAL AND
MENTAL HEALTH SYMPTOMS

11,854
THERAPY SESSIONS PROVIDED
TO CHILDREN, ADULTS,
COUPLES, AND FAMILIES

11,564
HOME VISITS PROVIDING
EDUCATION TO PARENTS OF
YOUNG CHILDREN

408,206
HOURS SUPPORTING
IOWANS WITH
DISABILITIES
BUILDING A NEW LIFE
Refugee and Immigrant Services
In his home country of Somalia, Ali was thriving.
He had more than 20 years of experience as a dental lab technician, and he loved every second of his work. His big, bright smile and warm personality made him the perfect fit for the job.
But political instability and war created turmoil in the country. Ali was forced to flee his home multiple times until ultimately, Somalia was no longer safe. His family fled to Ethiopia in 2004, leaving behind everything they had ever known, to live as refugees.
Ali wanted to provide a better future for his wife and their five children. And in 2013, his family got the chance of a lifetime: they were resettled in the U.S. and introduced to LSI's Refugee and Immigrant Services.
LSI's services support hundreds of individuals and former refugee families each year as they learn English, begin jobs, or take their U.S. Citizenship Test.
When Ali was introduced to LSI, he knew he wanted to continue doing the work he was so passionate about in his home country. But he had no official degrees or formal training that would make him eligible for job opportunities in Iowa. He couldn't get a foot in the door to talk to employers about his skills and qualifications. Additionally, advancing technology was already reducing the need for dental lab technicians in the U.S., and the field was becoming more competitive.
The prospects didn't look bright, but Ali was up for the challenge.
He turned to LSI's Career Pathways program, which partners with other local organizations and companies to offer training to upskill or reskill participants for in-demand industries. The program helped Ali practice his English language skills, learn to apply for jobs and prepare for job interviews, and study for his High School Equivalency Test.
His LSI team also helped him reach out to local dental labs to find specialized job training in his field. And every week, Ali dropped in to the LSI office to ask if there was any news on potential job interviews.
"His work is his passion, it's his talent, and we are so happy to be joining him on his journey," says Dianne, one of Ali's LSI team members.
His hard work is yielding progress. A local dental lab technician office agreed to host Ali for a paid job training to develop his skills in the U.S.
When Ali heard the news, he couldn't contain his joy. He was one step closer to launching his career in his new home. Tearfully, he asked his LSI team for a few moments to pray and give thanks.
Ali successfully completed his internship in January. As he looks forward to the next opportunity, his LSI team will be there, ready to provide the tools and resources he needs along the way.
HIS WORK IS
HIS PASSION,
IT'S HIS TALENT,
AND WE ARE SO
HAPPY TO BE
JOINING HIM ON
HIS JOURNEY.
WE NEED YOU. CHANGE LIVES LIKES ALI'S.
RAISING HEALTHY FAMILIES
Early Childhood Services
As a child, Morgan had endured trauma no one should experience.
Addiction, divorce, and difficult family relationships all surrounded Morgan in her childhood home. By the time she turned 18, she was living on her own.
When she found out she was pregnant for the first time, Morgan was determined to never repeat the past she grew up with.
Two weeks after giving birth to her daughter, Sophia, Morgan learned about LSI's Early Childhood Services, which provide in-home education and support to new parents.
She decided to enroll in the program.
The day LSI entered her life, Morgan remembers feeling overwhelmed. A stranger was coming to her home.
The house wasn't clean. Breastfeeding her new baby was a struggle. She was hard on herself about every decision she was making.
But when she first met her LSI worker, Ashley, everything changed.
"There was no stress. It didn't feel like there were eyes watching you to see what you were doing wrong," Morgan remembers. "Instead, it was 'How can I make this better for you? How can I make this transition into motherhood go smoothly?'"
Every week, Ashley would bring age-appropriate toys and games for Sophia to play with. She provided Morgan with educational resources to help her track Sophia's development and make sure her daughter was hitting all her important milestones.
When Morgan welcomed her second child, Nolan, Ashley was with her every step of the way. It was Ashley who noticed that Nolan had developed a speech delay, and she helped Morgan connect with a speech therapist to correct it early. When Morgan separated from the kids' father, Ashley was the first person she called.
"I went through all the scary thoughts you have when you leave a bad situation," Morgan says. "She helped me get set up with all the resources I needed. She's come through on multiple occasions where I didn't have anybody else."
Now, Morgan's family is thriving.
Sophia is in preschool and loves telling her mom about her teachers, friends, and the new songs she learned at school. Nolan is an active two-year old who is learning new words every day. Morgan is currently finishing her Registered Nursing degree, and she dreams of working in emergency care at a hospital after graduation. And all the while, Ashley has been there to cheer them on.
"She's been more than a worker, she's been a friend when I've needed someone the most," Morgan says. "Being a new mom is hard. Having that extra person there, who doesn't judge you, who doesn't see your flaws, who is just there to help you – you can't put a price on that."
HAVING THAT
EXTRA PERSON
THERE TO HELP
YOU – YOU CAN'T
PUT A PRICE ON
THAT.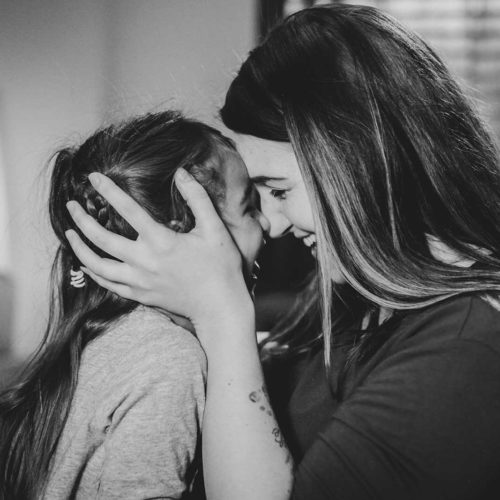 WE NEED YOU. CHANGE LIVES LIKE MORGAN'S.
CREATING HER COMMUNITY
Services for People with Disabilities
Paulynn had a dream of what she wanted in life:
Lots of friends, a job she loved, a healthy lifestyle, and a sense of community.
But it was difficult for Paulynn to leave the apartment she shared with her dad, Lee. Though Lee had dedicated his life to serving as his daughter's primary caregiver, they didn't have reliable transportation that could accommodate her wheelchair. And Paulynn's risk of seizures meant she always needed to be accompanied by her dad.
Despite the obstacles, Lee was determined to give his daughter the life she dreamed of. He enrolled her in LSI's Services for People with Disabilities.
Fifteen years later, Paulynn's dream has become a reality.
Through LSI, Paulynn began meeting with a team of caregivers each week. They helped her solidify her goals and worked with her to use her own strengths to build greater independence.
Every week, her team provides transportation that allows Paulynn to travel to and from her apartment with ease. While Paulynn is out, Lee is able to take a well-deserved break from his caregiving role.
Before LSI, Paulynn says she hesitated to go out or go to school, because she knew her risk of seizures scared others who didn't know how to help her through. But now, she feels safe with her LSI team, knowing they will be there when she needs them.
Paulynn loves staying active, and her LSI team has collaborated with her to make sure nothing stands in her way. She enjoys using a modified workout routine at her local YMCA, and she
gives back to her community. Every Tuesday, Paulynn goes to her favorite place: Meals from the Heartland, which provides meal packages to individuals in need.
For the past five years, Paulynn has been a regular volunteer at the organization. Her job is to place label stickers on all the packages, and she is proud to say she can place hundreds of
labels in a single session.
"Before Paulynn found volunteering, she spent a lot of time doing other fun things in the community. But she had a hard time creating a community of her own," says Danielle, one of Paulynn's LSI team members. "Now, she sees the same group of friends every week, and they all look forward to seeing each other."
But her busy schedule doesn't stop there. When she's not volunteering, Paulynn loves staying active by going to the zoo, shopping at the mall, or visiting special events like the Iowa State Fair. She currently has her sights set on learning to use a walker, so she can have even easier access to places in her community. And for every moment, her LSI team is there to support her.
"LSI is really good," Paulynn says. "They've always been there for me."
LSI IS REALLY
GOOD. THEY'VE
ALWAYS BEEN
THERE FOR ME.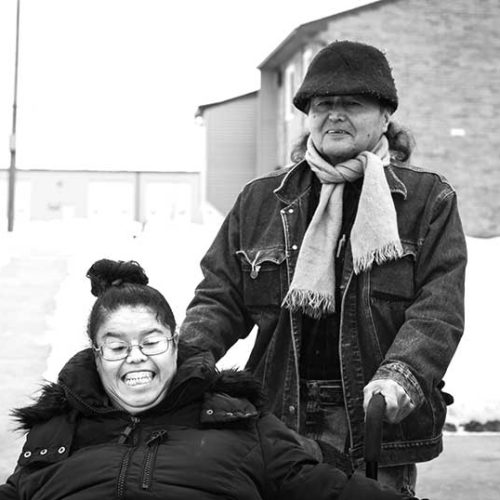 WE NEED YOU. CHANGE LIVES LIKE PAULYNN'S.
Total Revenue & Support
$34.2 MILLION
Total Assets
$24.0 MILLION
Total Net Assets
$21.0 MILLION
Total Income

Reimbursement for Services
Contributed Support
Income: 12% Contributed Support Sources

LSI Charitable Foundation
General Contributions
Restricted Contributions
United Way
ELCA Synods
Expenses

Early Childhood Services
Refugee Services
Administration
Fundraising & Church Relations
Services for Families
Residential Services
Services: People w/ Disabilities
LSI focuses on mission and stewardship.
For every dollar received, we spend 89 cents on services.