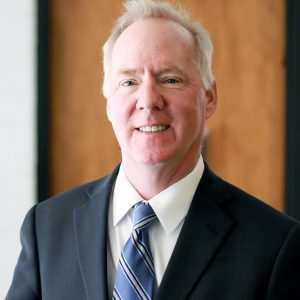 A Message from
John Twardos
LSI President and CEO
Our Mission:
Lutheran Services in Iowa responds to the love of Jesus Christ through compassionate service.
Dear friend of LSI,
The past year has been a challenge as we've all had to adjust to the "new normal" brought about by COVID-19. But for many in our communities, this pandemic posed even greater risks. Here at LSI, we asked ourselves: How can our neighbors with disabilities continue to receive the 24-7 care they rely on? For children in residential treatment or foster care, how can they stay connected to their families? How can Iowans with mental illness access critical therapy services?
Over the last year, one quote has stood out to me:
"When I was a boy and I would see scary things in the news, my mother would say to me, 'Look for the helpers. You will always find people who are helping.'" – Fred Rogers
So many Iowans have felt heightened levels of anxiety, danger, and grief this year. But the LSI team has been there every day, night, and weekend, no matter what. Our direct care staff have been an essential workforce, risking their own safety and that of their families to ensure Iowans continued to receive the support they need. I am proud of LSI's resiliency over the last year. Thanks to you, our team continues to provide hope and healing to those so often overlooked in our society.
Because of you, we are still here. Thank you for your steadfast support of LSI and our shared commitment to building a stronger Iowa.
Your Compassion in Action in 2020

78,788+
hours supporting Iowans
with disabilities

569
refugee and immigrant community members attended LSI's virtual classes for English lessons, work readiness, and training for their U.S. Citizenship Exam

18,757+
virtual home visits providing education and resources to
parents of young children

18,775+
virtual teletherapy sessions provided to Iowa children, adults, couples, and families

$300,000
earned by farmers who are former refugees in LSI's Global Greens program
Hali's New Life
Early Childhood Services
"Hali is resilient, determined, and strong, and she just keeps pushing forward despite any obstacle. I'm so proud of her and excited to see what the future holds."
– Gretchen
LSI Family Support Worker
Hali's daily routine feels familiar to any parent of an infant: There are meals to make, diapers to change, toys to play with, and books to read.
Life is busy most days. But Hali wouldn't have it any other way.
The road to get to this daily schedule has been long, with ups and downs over the years. With help and guidance from LSI Early Childhood Services, Hali has overcome every obstacle to build a bright future for her son, Apollo.
Hali grew up in a home surrounded by addiction. Her own struggle with substance use and trauma began at age 14 and continued for more than 20 years. When she started her own family, she was unable to provide a safe and healthy environment for her children, and they were removed from her care. She wanted to reverse the path she was on, but she didn't know how to stop or where to turn. When she found out she was pregnant with Apollo, Hali knew she needed to change.
"I was ashamed and didn't want to use, but I felt like I had to do it to survive," Hali remembers. "When I was in the hospital after Apollo was born, I remember bawling my eyes out and saying 'I can't do this anymore.' If I was put back out on the street, I was going to die." Hali entered treatment and stayed 50 days. When she and Apollo were ready to return home, LSI Early Childhood Services were there to provide support for her family.
Hali was able to find her own apartment, and her LSI worker, Gretchen, became her "number one cheerleader." Each week, Gretchen provided parenting education and resources, all while empowering Hali and making sure Apollo had a healthy home. Gretchen helped Hali keep track of Apollo's growth to ensure he hit all his important developmental milestones.
"Gretchen has given me a lot of hope. She's always had my back. She's not here just because it's her job. She's my go-to person for any resource and it's nice to have her in my corner."
Almost a year later, Hali's family is thriving. She is now in college and she wants to work as a medical coding specialist. She is also a sponsor to other women who are on the same path to recovery. At home, Hali is busy keeping up with Apollo as he is learning to walk. She loves playing with him every day, especially as he learns to roll a ball back and forth on the ground.
"I got the chance at a new life. Not everybody gets those chances… A lot of people feel like they're stuck in a place, that they can't get clean. I'm proof that if you want it, it can happen. I'm getting everything back slowly, and I'm not going to stop."
– Hali
We need you. Change lives like Hali's.
Finding Paradise
Refugee and Immigrant Services
"I enjoyed working with Mon to meet this important milestone for his family. You could see his excitement in being able to purchase a home for the first time, watching his children have their own rooms and play areas, and starting a garden with his family for the first time in their own backyard."
– Dena
LSI Economic Development Coordinator
Perseverance is a familiar quality to Mon.
Born in Bhutan in 1980, Mon and his family fled his home country amid the outbreak of civil war. He lived in a Nepali refugee camp for almost 24 years but in 2016, the opportunity came for his family to move to the U.S.
Friends and relatives had previously relocated to Iowa, so his family decided to follow their path. Mon found work in the Des Moines area while his wife, Pravita, cared for their two children at home. They found a tiny apartment, but the single room was not sufficient for their family – especially once their youngest daughter was born.
After almost four years of living in a cramped, thin-walled apartment, Mon knew something needed to change. He connected with Greater Des Moines Habitat for Humanity, which helps families purchase a home at an affordable mortgage rate.
Mon also enrolled in the Match and Save program through LSI Refugee and Immigrant Services last year.
With guidance from LSI staff, Mon opened a savings account and developed a monthly savings plan.
Now, Mon's dream has finally come true: His family moved into their new home in December.
Their neighborhood includes several other Bhutanese families and relatives, and is in close proximity to schools their children will attend. The kids enjoy having more space to play, while Mon and Pravita are excited for the little joys of homeownership, like decorating their forever home.
Mon says he has learned a lot about money management, thanks to LSI's financial literacy education – lessons that will pay off during his journey as a homeowner.
"I felt very sad when I left my country. I felt as if I lost my paradise. But when I got the key and when I entered the house, I felt that I regained my lost paradise. That was the happiest moment in my life and now, my family and my kids are super happy to live in this new house."
– Mon
A Virtual Path to
Healing and Health
Therapy Services
"Without telehealth, Trevor may not have gotten the help he needed. He worked hard to accomplish his goals, and he healed from past trauma and has healthy coping skills now."
– JoAnn
LSI Therapist
Across the state, social distancing and isolation due to COVID-19 meant that many Iowans lost access to the in-person therapy sessions they relied on. Last March, LSI Therapy Services began offering therapy via telephone or video calls.
This option was critical to serving people with high-risk health conditions, employment or childcare barriers that made it difficult to leave home, Iowans in rural parts of the state, or people impacted by the COVID-19 pandemic.
Sherry and Mike
When Mike began meeting with LSI Therapist Sherry, he felt angry and depressed, and his family was at risk of falling apart. He questioned whether the services could help, and he knew if he missed an appointment, he wouldn't want to go back.
The two originally started meeting in person before COVID-19. When the pandemic began, Mike was unsure how he would move forward with the therapy he'd worked so hard to prioritize. But he found Sherry right beside him every step of the way, ready to continue their journey even if it meant meeting over the phone or computer screen.
"Thank God for working through LSI's telehealth, and especially for Sherry, who helps people like myself who have been lost for years. If I hadn't chosen LSI, I wouldn't have met my therapist who has truly helped me keep my family and stay alive," Mike says. "I look back at the progress I have made and see some light peeking through to the end."
JoAnn and Trevor
In the middle of the pandemic, Trevor found himself at a loss. He had recently experienced a tough break-up, he felt anxious, and was experiencing depression and suicidal thoughts. But with social distancing measures in place, he didn't have a therapist he could meet in person. That's when he discovered LSI's telehealth services and met his therapist, JoAnn.
JoAnn and Trevor began meeting virtually, and they established coping skills that helped Trevor get through the difficult days.
"You just can't do it yourself sometimes. I needed someone to talk to that I could confide in. JoAnn was the person," Trevor says. "Just getting out of the deep dark pit that I dug for myself took a while and metaphorically, JoAnn was able to cast that rope down to help me climb out."
After starting telehealth, Trevor now feels the best he's felt in years.
He recently started a new job and in January, he felt prepared to end his sessions with JoAnn and move forward with the tools he has gained.
We need you.
Change lives like Mike and Trevor's.
Total Revenue & Support
$30.1 MILLION
Total Net Assets
$21.7 MILLION
Total Income

Reimbursement for Services
Contributed Support
Income: 12% Contributed Support Sources

LSI Charitable Foundation
General Contributions
Restricted Contributions
United Way
ELCA Synods
Expenses

Early Childhood Services
Refugee Services
Administration
Fundraising & Church Relations
Services for Families
Residential Services
Services: People w/ Disabilities
LSI focuses on mission and stewardship.
For every dollar received, we spend 89 cents on services.