This year has brought many challenges as we all adjust to changes in our daily lives. But this year has also brought opportunities for innovation and creating positive change that will impact our community.
At LSI, we have spent this year moving forward together. We developed new ways to provide quality human services to Iowans of all ages. We expanded our teletherapy services; our social workers are providing behavioral health care for more youth in juvenile detention centers; Iowans with disabilities have new in-home care opportunities through our growing Host Homes program; and more of our refugee and immigrant neighbors have access to virtual English classes and citizenship training courses.
LSI has been able to adapt and innovate, because of our supporters. When you make a gift to LSI, you are ensuring we can continue meeting the needs of our neighbors.

You can help more Iowans like Jacob, who achieved his dream of graduating high school. When his mother passed away, Jacob was able to turn to his Host Homes mentor, Julie. They built a lasting bond and Jacob became more independent as he prepared for adult life. Now a high school graduate, Jacob feels confident, loves cooking, and looks forward to learning new things and visiting new places.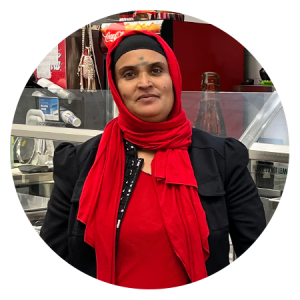 You can empower individuals like Ali and Salah, who successfully opened their own restaurant in the U.S. After relocating to the U.S., Ali and Salah wanted to own a restaurant that would be as successful as the one they operated in Kenya. With help from LSI Refugee and Immigrant Services, the family opened a restaurant during a pandemic when the food industry was faced with unprecedented obstacles.

Your support means families like Kelsey and her 13-year-old daughter, Adryanna, can communicate in a healthy way at home. They utilize LSI Behavioral Health Intervention Services (BHIS), an in-home program that coaches families to build skills like communication, problem solving, and anger management. Now, Adryanna has the tools she needs to manage the tough days, and Kelsey is thrilled to see her daughter express her feelings openly with her family.

When you make a gift to LSI, you ensure parents like Nikita and Matthew have the training they need to provide foster care for children in need of a temporary home. This year has been especially stressful for children who have experienced the uncertainty that comes with being removed from their home of origin. But foster parents like Nikita and Matthew have been there to help every step of the way until they can safely return home or find a forever home through adoption. Meanwhile, they have an entire team standing alongside them through LSI Foster Care and Adoption, which recruits, licenses, and supports foster and adoptive families across western Iowa.
LSI is able to empower Iowa moms like Holly, who is receiving the services she needs for her busy life with four children. The kids are learning healthy communication and coping skills with their LSI therapist, and their BHIS worker is there to help them practice those skills at home. Through LSI Early Childhood Services, Holly is getting the education she needs to feel comfortable meeting her kids' developmental needs and raising them in a happy home. These LSI services work together to strengthen Iowa families, and they are all possible because of LSI's supporters like you.
You can make so many dreams a reality through your support of LSI. As we look ahead to next year, we continue to stand ready to meet our communities wherever they are on their journey to hope and healing. But we need your support in our mission. When you make a gift to LSI this holiday season, it will be matched dollar-for-dollar from our match pool of $75,000 through December 31! Please consider making a gift to empower more Iowa children, adults, and families.
Thank you for joining us in this important work to serve Iowa children and families. We hope you and your loved ones have a Merry Christmas and a happy new year!