Opening Their Heart and Home
How one Iowa family became complete through adoption
Phillip and Ruth Reitan remember the day they decided they wanted to adopt.
While teaching at Wagner College in New York City in the late 1950s, the couple was shocked to learn how abandoned babies in a local hospital were being treated.
The babies were being neglected, didn't receive the attention or care they needed, and were not developing properly because of it. Phil and Ruth knew they needed to do something.
"We decided we would adopt as soon as we could," Ruth says.
When they relocated to Luther College in Decorah, Iowa, Phil and Ruth decided to become adoptive parents through what was then called Lutheran Social Services of Iowa (LSS). The couple already had three biological children, Carol, Eric, and Peter, but they had more room in their home and in their hearts. They were ready for a fourth child. That's when baby Rachel entered their lives.
"It was exciting for us," Phil says. "But, of course, we just went on living, and Rachel fit right into the family."
A few years later, the couple adopted a 4-year old girl, Paula, and their family was complete. The seven traveled the country for work and vacations, went camping everywhere, and remained a close-knit family even as each child left home
for college.
Now, all of Phil and Ruth's children have lives of their own, and Phil and Ruth have added grandchildren and great-grandchildren to their legacy.
Rachel, a graduate of Luther College and the University of Wisconsin Medical School, became a doctor and practices in New Orleans, Louisiana. She also has a weekly syndicated health tips show on her local ABC television station, and has been awarded two regional Emmys. Paula graduated from the Naval Academy, received her Ph.D. in Computer Science, and now works for the IRS.
Through it all, Phil and Ruth have been advocates and supporters of adoption in Iowa. For them, it was a way to make a difference in the world, one child at a time. Today, Phil and Ruth continue to support vulnerable children in Iowa as faithful donors to LSI.
"Not everyone can adopt," Phil says, "but there are many other ways to support LSI."
A Message from Susan Salmon
Director of LSI Foster Care and Adoption
Riding a bike. Going fishing. Learning to cook spaghetti and meatballs.
These are moments many of us take for granted. But for children in Iowa's foster care system, having a parent to care about the little things makes a big difference.
I am thrilled to announce a change in one of our foundational services. LSI Foster Care and Adoption will help hundreds of families in western Iowa celebrate those little moments.
For 10 years, LSI was a proud partner of Iowa KidsNet, a statewide collaboration of agencies that recruited, licensed, and retained foster and adoptive parents across Iowa. While the Iowa KidsNet collaboration ended this summer, our dedication to Iowa's most vulnerable children is stronger than ever.
LSI Foster Care and Adoption operates in 30 counties in western Iowa to create permanent connections between children and families through foster care, adoption, and birth parent reunification. We are also working alongside Four Oaks, an organization lifting up families in other areas of the state.
You can be a part of this journey, too. Iowa has an urgent need for more foster families, especially those who can open their hearts and homes to teenagers, sibling groups, and children with special needs. Hundreds of children in western Iowa have entered the foster care system already this year. By giving a gift to LSI, you help to ensure these children find safe and stable forever homes.
If you know a friend or family member who can open their heart and home to a child in foster care, send us a message at fosteradopt@LSIowa.org or visit us online at LSIowa.org/foster to learn more about how you can change the life of an Iowa child.
An 'Old' Hobby for a New Generation
From a building on LSI's Bremwood Residential Treatment Center campus, snippets of conversation can be heard over the soft whirring of sewing machines.
"Does anybody have any blue thread?" 
"I'm going to sew a Santa design on my shirt!" 
This summer, children on campus have been learning new sewing skills thanks to a generous donation of sewing machines from Elaine Bruns, the former owner of a local sewing shop.
The group is lead by Chris Weber, the School Liaison at Bremwood. Over the summer, the group has embroidered T-shirts and towels. But the sewing room is a way to give back to the community too, and the children sewed pet beds that were donated to the Cedar Bend Humane Society in Waterloo.
"We spend a lot of money on medical and food supplies for the animals, so we can't always afford those luxuries
like pet beds," says Karla Beckman, Co-Director of the Humane Society. "For the children at Bremwood to do a project like that, it's huge for the animals. We're always grateful for those donations."
Chris says the sewing room has been a motivation for several children on campus.
"

For a lot of the kids, we see them have their most challenging behaviors when they're just bored and don't have anything else to do. So this is positive reinforcement for their good behaviors, and a lot of them do really well if they just have a structured activity.

-Chris

" 
Jordan, 14, has been thriving. He has been involved in several activities during his time at Bremwood. But when each activity would end, and he was left with no creative outlet, his anger would return.
Sewing helps Jordan practice his coping skills. Whenever he has to share a machine or his work doesn't turn
out quite the way he wants, Jordan works on managing his anger in a positive way.
The sewing room is also a place for children to grow into leadership roles, Chris says. 15-year-old Rianna has been learning to sew throughout the last year, and she supports and guides others like 15-year-old Greg, who has recently joined the sewing group.
"Rianna is to the point where she can step aside and help another kid who's maybe only been there for a week. It's been great to see her take on that role," Chris says. "The sewing room is another way for the kids to be creative, and learning to sew is a skill they can hopefully use later in life."
If you are interested in supporting this extracurricular activity at Bremwood, the sewing room is accepting new plain colored t-shirts in various adult sizes for future sewing projects.
To learn more about how you can donate, contact us at philanthropy@LSIowa.org or at 866.584.5293.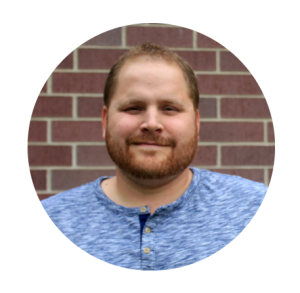 Staff Spotlight:
Matt Voorhees, Residential Manager at LSI's Beloit Residential Treatment Center
Matt Voorhees grew up in a loving home. He got good grades, played varsity sports, and was involved in many other school activities. He went to college with several scholarships but in his first year, Matt's life spiraled out of control.
For the next three years, Matt fell deeper and deeper into addiction. He lived out of his car in the middle of winter and even attempted suicide.
But Matt received a second chance to rebuild his life. He went to 15 months of intensive residential inpatient treatment.
During treatment, Matt was able to mend his heart. After finishing treatment, Matt became a staff at the organization and eventually felt a call to LSI, where he could help children find their own path to hope and healing.
"One of the most important things I learned is the importance of patience, of acceptance, and second chances," Matt says.
When Matt looks at the children and families we serve at LSI, he sees a great need for patience, for acceptance, and for second chances.
"We cannot allow ourselves to forget the pain and the hurt that these children have been through," he says. "The only reason I am here – that I am alive – is because I received a second chance. It is because somebody cared about me when I did not deserve that care. It is my goal to spend the rest of my life giving unconditional care to the people I serve."
See more about Matt's story at YouTube.com/LutheranServicesIA
Leave a Legacy!
You can include LSI in your will!
LSI has responded to the love of Jesus Christ through compassionate service for more than 150 years. We have created a legacy of lifting up and empowering thousands of our Iowa neighbors, thanks to your generosity!
As a supporter of this ministry, we ask you to consider how you can make a lasting impact for years to come. By including LSI in your will or living trust, you are ensuring that we can continue our mission and ministry for years to come.
Your gift also entitles your estate to an unlimited federal estate tax charitable deduction. Below is an example of the bequest language you can use:
"I, [name], of [city, state, ZIP], give, devise, and bequeath to Lutheran Services in Iowa [written amount or percentage of the estate or description of property] for its unrestricted use and purpose." 
Legal Name: Lutheran Services in Iowa Charitable Foundation, Inc. Address: 106 16th Street SW P.O. Box 848, Waverly, IA 50677 Federal Tax ID #: 42-1254906
Contact Jason Lee at Jason.Lee@LSIowa.org or call 515.817.0980 to learn more about making a gift to LSI in your will or other estate plan. Blessings to you and thank you for your support of LSI and those we serve!
Our Mission: Lutheran Services in Iowa responds to the love of Jesus Christ through compassionate service.