By Anne Peters, LMFT
My full-time job is a Mental Health Therapist, and my other full-time job is providing foster care to kittens. Ever since I was a young girl, I have had a strong love for our four-legged friends. My mom deemed me a "cat wrangler" from a very young age. About 15 months ago, my journey as a foster home for young or ill kittens began. Let's be honest – I loved my pet cats growing up, but I was totally going in blind when I agreed to take in the first fosters. I had been volunteering at a local pet shelter and arrived for my shift and saw two tiny kittens that were less than one day old. The mom cat had rejected them. The staff tried different ideas to keep the kittens safely at the shelter without any luck. I said I would give fostering a try, and I would be back to get them shortly once I got some supplies. I called my mom and my friend and said "I just agreed to something…" Luckily, I have the greatest people and they both said "OK, let's do it." Gus and Gertie headed home with me.
Here they are at Day 1. Eyes and ears are not yet open; requiring bottle feedings every two hours; weighing in at less than ½ of a pound. Most importantly, they had stolen the hearts of the few of us tag-teaming their care. I learned so much during this experience. Specifically, I learned so much about myself. Kittens that do not have their mothers from birth have a much higher likelihood for fatality. Unfortunately, our little white furball Gertie put up a strong fight from Day 1, but did not make it. That lit a huge fire underneath me to help Gus grow, thrive, and survive.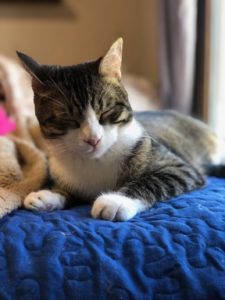 Not only did he thrive and survive, he's now a permanent member of my family and could not be more loved. Here he is today, at one year old! I can now say I have fostered a total of 20 kittens over the course of 15 months. Some have been ill, some have been tiny, and all have been loved. The picture used at the top of the blog includes five of my previous fosters – you'll recognize baby Gus right in the middle! The Pet Effect, or the relationship between human and pet, has scientifically been proven to improve our mental health. In fact, 75% of pet owners in one study stated getting a pet improved their mental health. Those are some pretty good odds.
We would love to hear from you. Do you have any fur babies in your family? What's your favorite thing about having a pet? Mine is their loyalty and unconditional love. You can't buy happiness, but you can rescue it.