By Anne Peters, LMFT
We have officially made it to spring! We made it through another winter and can see the blooms of new beginnings all around us. The weather is warming up and with that, we can enjoy some outside time with our loved ones. I don't know who will enjoy it more, us as adults or our kiddos we are caring for! Have you heard of sensory bins for children? It's a wonderful way to put together different textures for a fun and interactive activity for the whole family. Many of the items listed for these sensory bins you may already have around the house; otherwise, they can be found at your local dollar store. You don't need to spend a lot of money to create a lot of fun and adventure. Here are some fun springtime sensory bin activities you can try today!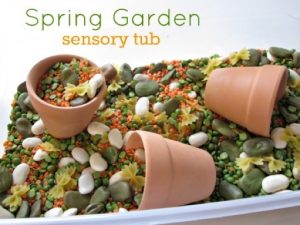 1. Spring Garden Sensory Tub (from www.notimeforflashcards.com)
In this sensory bin, combine dried split peas, large dried Lima beans, dried white beans, dried orange lentils, mini bow tie pasta, and some small flower pots into a tub. You can find big sensory tubs for around a dollar! Mix all together and add some small flower pots and some sand shovels. Explore and play. What a great time to teach all about growth and gardening.
2. Baby Bird Sensory Tub (from www.modernpreschool.com)
The different ways to play in this bin are virtually endless! Here's what you need: shredded brown paper, colored pipe cleaners, plastic bird toys, clothespins, and bowls for sorting. That's it! One idea is to combine all into a bin and encourage your children to sort the worms by color using the clothespins as grabbers and separate into different bowls.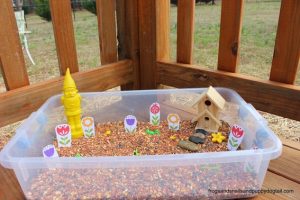 3. My Garden Sensory Bin (from www.frogsandsnailsandpuppydogtail.com)
Here's a super fun idea! Here's all you need – bird seed, a birdhouse, stones/rocks, insect/reptile/bird toys, shovels/scoops, trucks, flowers, or gnomes. This activity is great because you can use what you have if you don't want to go out and buy new objects. Let your kiddo go wild creating their own garden scene.
"Children need the freedom and time to play. Play is not a luxury. Play is a necessity." – Kay Redfield Jamison