Barb and Harry Budd love to fill their home with Christmas decorations and invite their neighbors to tour the rooms filled with Santas of every shape and size. The hobby earned the Budds recognition in the community, but it also marked the beginning of another passion for the couple.
When the Budds opened their home to the children at LSI's Beloit Residential Treatment Center in Ames, one young girl was amazed at the books on display and mentioned that she wished she had books at Beloit.
"That's when we knew Beloit needed a library," Barb says. "We contributed funds to have a room filled with books."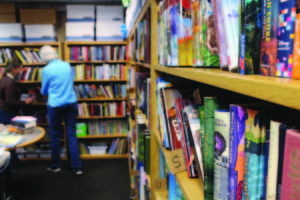 Since 1999, Barb and Harry have dedicated their time to supplying books for the Beloit library. Today, the library walls are filled with thousands of bright, colorful books.
In 2000, Harry felt the need to do more to support the children at Beloit. Now, whenever a child graduates out of their treatment at Beloit, Harry gifts them a book of their choice. To date, Harry has given away 430 books.
"I remember one instance where a young boy wanted a cookbook," Harry says. "A few weeks later, I saw that child in a grocery store with his family and he said, 'We're out getting groceries to make a recipe from your cookbook!' That was a special memory."
Every week, the Budds can be found in the Beloit library, stocking shelves and organizing books for children on campus to borrow. Barb says the children keep her passionate about her hobby, and she loves receiving thank you messages from them after they find the perfect book.
"They always say, 'I didn't think adults listened to me,'" Barb says. "I think it's nice for them to know that someone cares enough to find out what they like to read."