At LSI, volunteers are essential to strengthening and growing our community impact. We are committed to connecting volunteers with meaningful opportunities to engage in their community and apply their unique skillsets and passions to support Iowa's children and families. From empowering Iowa youth to welcoming former refugees, we offer plenty of opportunities to engage, impact, and grow with your community.
Individual and Group Volunteering
Do you have friends who are passionate about helping others? Are your coworkers interested in lifting up members of their community?
LSI provides group volunteering opportunities, so you and your friends or colleagues can work together to make our community a better place.
From May to November each year, groups of volunteers can assist former refugee farmers through our Des Moines-based Global Greens program.
To learn more about current group volunteering opportunities in our offices across Iowa, contact Volunteer@LSIowa.org.
If you are interested in group volunteering, please contact us at least two weeks in advance.
Service Learning
It is our passion to connect students with meaningful opportunities to expand their learning beyond the walls of the classroom and learn the importance of engaging in their community.
If you are a professor seeking to partner with LSI, please contact us at least one month prior to when you would like to place students with us.
All volunteers are required to complete our onboarding process and plan their experience with the timeline of our process taken into consideration. We recommend all service learning volunteers begin planning with us between two weeks and one month ahead of when they would like to begin their volunteer experience.
Interested in LSI's Service Learning? Contact us at Volunteer@LSIowa.org to get started!
Frequently Asked Questions
Who can volunteer?
LSI considers all qualified applicants regardless of gender, nationality, religion, ethnicity, or sexual orientations.
Do I have to meet any requirements to volunteer?
Because of the nature of our work, we carefully screen and train our volunteers to ensure it's a safe and successful partnership for everyone involved. First, you will complete an application. Once that is complete, you must pass a background and reference check, and have an informal interview and orientation before you start your journey. For certain volunteer positions, you may need a Tuberculosis (TB) screening. There is no cost to you in completing this paperwork. One-time volunteers and limited-hours volunteers will not be required to go through the same background and reference check process. Please contact Volunteer@LSIowa.org for more information on requirements for specific positions.
Is there a minimum age requirement to volunteer?
You must be at least 18 years or older to volunteer at LSI.
How much time does it take to volunteer?
This depends on your volunteer position. Some volunteers build relationships directly with LSI clients, and we ask them to make a commitment of six months or more. Other opportunities may be one-time or short-term commitments.
What can I expect from the interview process?
Our volunteer interview is just like a conversation. We want to hear about your skills and interests, your experience, and your schedule so we can find the best match for you and for us. You'll meet with our volunteer coordinator or the LSI supervisor who is seeking to fill the volunteer position.
What is a TB screening? Why do I need it?
A TB screening is a Tuberculosis screening. You'll need this if you plan to volunteer with our Refugee Community Services or if during your volunteering, you visit a client who is incarcerated. This is important to protect your health, our staff, and those we serve. It's free of charge and a very simple process. Your results are read 48 to 72 hours after your screening. Your volunteer coordinator can give you more information about this. This is at no cost to you; however, if you prefer, you can have your own physician do the screening at your cost.
Do I need to have experience to volunteer with LSI?
We do not require volunteers to have previous experience for the majority of our volunteer positions. We do require all volunteers to have good communication skills and an excitement for learning. We provide all the training needed for each position.
Why do I need to complete a background check to volunteer?
In order to protect the interests and wellbeing of the people we serve, volunteers who either work directly with individuals or will have access to confidential information must complete the background check process. The need for the background check will depend on the nature of the volunteer opportunity.
Who should I list as references?
Good people to list might be a friend, teacher, coworker, neighbor, member of your church or social group, or anyone who can attest to your character and suitability to volunteer. Please don't list relatives. This is the step in the process that takes the most time. If you let your references know ahead of time that LSI will be contacting them, it usually speeds things up.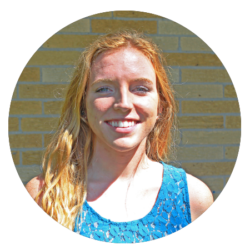 Lara always had a passion for helping others. Her love of volunteering and teaching led her to pursue a degree in education, but she wanted more work experience. She decided to serve two AmeriCorps terms with LSI, volunteering with the Refugee Community Services to lead English classes. Even after her term ended, Lara continues to volunteer at LSI and empower more families.
Thank You
Thank you to all of our LSI volunteers! We are so grateful that you choose our mission of hope and healing as a way to give back to your community.
Learn more about LSI's volunteer opportunities by emailing Volunteer@LSIowa.org!
If you are interested in volunteering for our Des Moines and Sioux City-based Refugee and Immigrant Services, contact Meghan Smith at Meghan.Smith@LSIowa.org or 515.271.7387.