By Anne Peters, LMFT
Hello! Did you know June 8 is National Best Friend's Day? I love how there are holidays to celebrate just about everything. A day to celebrate friendship though? That is totally valid.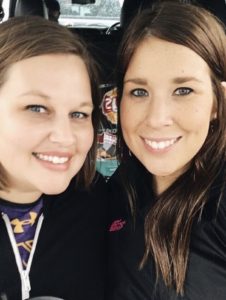 Today, we are going to dive into the world of friendship and discuss what qualities truly make a solid and long-lasting friendship. As we go into those specific traits, I know just the person I can reference who has all these qualities (and more). Let me introduce you to my best friend, Jaime!
Where can I start about what makes this girl the picture perfect best friend? We've been best friends for about 15 years now. We were great friends in middle and high school, then decided to be roommates our first and second year at the University of Northern Iowa. That's where it was determined there wasn't an Anne without Jaime or a Jaime without Anne. Jaime got married along the way, which added her husband into our group of "the three best friends that anyone could have." Now, she has two of the sweetest children, and it's been a joy to watch her grow into an amazing mother and wife. We have lived through life's sweetest moments and life's toughest moments and have reliably been by each other's side. Her family is my second family, and I am forever grateful for our friendship. She's hilarious, selfless, loyal, and has a heart of gold. She's taught me a lot about friendship, so let's dive into what makes a solid friendship last.
1. Honesty – We all have that acquaintance that can be too honest. The best friendships have a great balance between honesty and respect.
2. Loyalty – You never want to question if your friend has your back. It should just be a given! Even when you don't agree with something your friend does or says, stay true to the friendship and have a conversation about it. Loyalty goes a long way.
3. Non-Judgment – No one is perfect. When we make mistakes, a good friend is there to support us without judgment. When it comes to friendship, it's so comforting to know you won't be judged.
4. Dependability – This one is easy. Show up when you say you're going to, and be a constant support. We are all busy, but make your friendship a priority.
5. Support – Whether it's a cup of coffee, a laugh, or a shoulder to cry on, friendship is all about support.
6. Humor – What's better than laughter with the people you care about the most? On a personal note, no one makes me laugh harder than Jaime. It's joy at its finest.
When it comes down to it, friendship is one of the most important parts of life. I truly hope each of you have a "Jaime." What qualities are the most important to you in a friendship? Take some time today to reach out and check in with a friend!