I am super excited for today's blog. This is a new series in which I'm going to interview professionals that work closely with us as resource families. Look for new entries in this series every couple of months, and if you have specific requests of people you want to hear from, let us know! For this week, I took the opportunity to interview a colleague of mine, and someone who works closely with children and families involved in the foster care and adoption world. Meet Chelsea Zaragoza, therapist at LSI.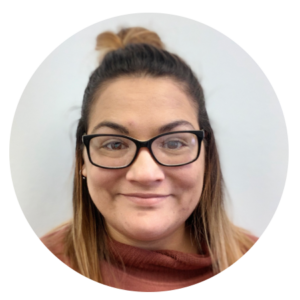 Q: Can you tell the blog readers a little about yourself?
A: I am Chelsea Zaragoza, I am currently a Temporary Licensed Mental Health Counselor with LSI. I have been with LSI for about seven years. I started my journey with LSI Foster Care and Adoption, I renewed the licenses for the foster homes and supported them. I have a seven-year-old daughter and two dogs, a teacup Chihuahua named Rainbow and an Australian shepherd named Bayley.
Q: What is your role here at LSI?
A: I currently provide therapy in school settings, in-office, and through an online platform.
Q: What is your role working with children who are in foster care or who have been adopted?
A: My role now in working with children who are in foster care or who have been adopted is in a therapeutic role. It is interesting, as I am now meeting these kiddos in their journey in a different role.
Q: What is one thing you wish all foster parents knew?
A: That what you are doing matters; you are becoming a positive adult in the lives of these children. However, that may not always be received well by the kiddos because they are not able to show you that at this moment.
Q: How can a child get enrolled in Therapy Services at LSI?
A: By calling 888.457.4692 and talking with our Central Intake Team.
Q: What's your favorite family activity that you recommend?
A: That's hard to pick just one. My favorite connection activity is a treasure hunt, where adults give hints to the children and the children hunt for the treasure. There are four categories of questions kids can ask to help find the treasure. Watching families create together is wonderful, and this activity helps foster communication.
Q: What is your favorite coping skill to teach to children?
A: I love to teach deep breathing. Lots of kiddos will see me and say, "I know how to breathe" and they are right, they do. However, when we work on breathing and visualization, the kiddos are really able to connect with their breathing and learn how to use this in everyday situations they may not typically use this coping skill in.
Thank you so much, Chelsea! Anyone else want to try a treasure hunt with their family soon? Sounds so fun. We are lucky to have so many professionals here at LSI that truly care for our children and resource families. If you think you or your child would benefit from Therapy Services, please give our Central Intake Team a call.