By Anne Peters, LMFT

Hi, everyone! Welcome back. How cooped up are we feeling today? If you've got kids at home – THANK YOU. Thank you for keeping your children safe, thank you for balancing 15 plates of responsibility at once, and thank you for your caring heart. This blog is for you. You're doing the best you can with what you've got. Here are some fun (and easy) activities you can do with your children while you're cooped up inside.
1. Scavenger hunt: You guys, this idea can be used over and over again. Kids love this activity. It ties in movement, (friendly) competition, and brain power. You could easily create (or Google) a scavenger hunt to be completed in your home, in the child's bedroom, or outdoors. Here's a link to a nature scavenger hunt that looks like a blast. It's a color walk scavenger hunt, encouraging the child to find an item of each color and draw it while on the walk.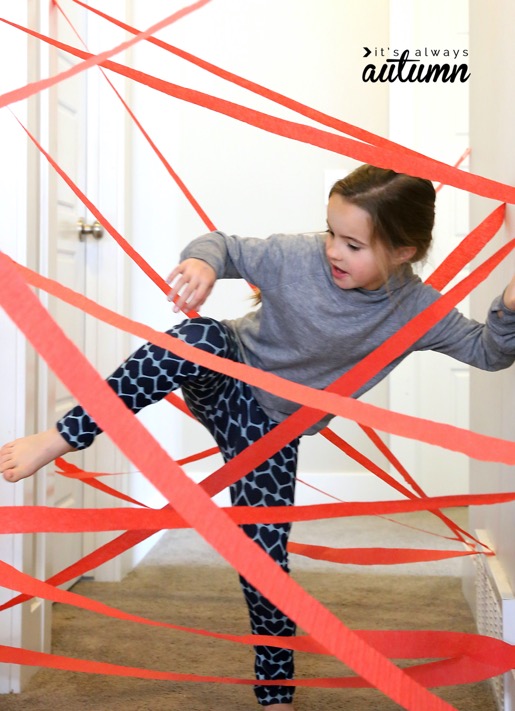 2. Indoor laser maze: This sounds so fun! All you need is a hallway, some masking tape, and party streamers (or something similar). Challenge your kiddos to get through the "laser maze" by not touching any of the streamers. Again, this activity is full of movement and laughter. Here's a photo that shows the general idea of the activity.
3. Drive-in movie: This sounds like a memory in the making! Here's how it works: Grab some large boxes from some of those recent online orders (one for each child, big enough for them to sit in). Then, have the children decorate their boxes as cars. They can color, put on stickers, and use whatever extra arts and crafts items you have! Now it's time to plan for a drive-in movie. Pick a family-friendly movie, and have them "park" their box cars in front of the TV. Make some fresh popcorn and create a memory! You could really win parent of the year if you created a box car for yourself… but the couch is fine! All of the kids will stay in their own personal space AND have a blast (win, win). Enjoy the movies!
4. Make cloud dough: I vividly remember the joy I would feel when my mom would say we could make homemade play-doh, oobleck, or anything of the sort. Here's another super easy idea to try – cloud dough! Here's the recipe: 8 cups of flour and 1 cup of baby oil. That's it! Mix it up, and it creates this super soft but still buildable consistency. It smells great, too! Add in some little plastic toys or small shovels/pails. Keep it in a tightly sealed container and it will last for a while, too.
There you have it! Four activities that can keep on giving. You're doing great, parents. Deep breaths.