By Anne Peters, LMFT
Life gets so busy. Although the last 14+ months of the pandemic have brought so many difficulties and fears, the one thing I have seen increase is family togetherness. What better way to plan for family togetherness than a family meal? Whether it's dinner each night or breakfast each morning, a mealtime brings forth a fantastic opportunity for us to simply be with our family. What are the perks to this? Let me share with you! "The Family Dinner Project" shares research that has occurred over the last 30 years.
The following are research-based benefits of enjoying family meals.
– Better academic performance
– Higher self-esteem
– Greater sense of resilience
– Lower risk of substance abuse, depression, and teen pregnancy
– Lower likelihood of developing eating disorders
– Lower rates of obesity
– Better cardiovascular health in teens
– Bigger vocabulary in preschoolers
– Healthier eating patterns in young adults
There are also benefits for adults, including:
– Better nutrition, with more fruits and vegetables and less fast food
– Less dieting
– Increased self-esteem
– Lower risk of depression
The variety of benefits of family mealtime are amazing! From improving our mental health to our physical health, family togetherness at mealtime does it all. What's your favorite meal to cook together? Here's a recipe from "Thursday Night Pizza" that's a family favorite in my house, and the kids can get involved in the cooking!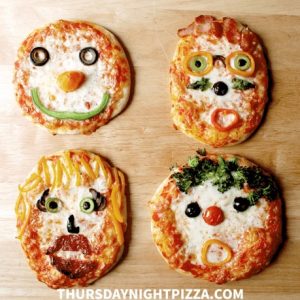 Personal Pizzas
Equipment
– Cutting board and knife
– Cheese grater
– Prep bowls for toppings
– Rolling pin
– Pizza pans or large rimmed baking sheet(s)
– Pizza cutter
– Serving platter or board
Ingredients
– 1 (14 to 16-ounce) ball pizza dough
– 1½ cups pizza sauce
– 6 ounces mozzarella, Jack, Colby, or cheddar cheese, grated or cut into ½-inch cubes
– Toppings of your choice (sliced bell peppers, onions, mushrooms, olives, roasted red peppers; blanched broccoli or cauliflower florets; chopped artichokes, cooked bacon, cooked chicken; cooked and crumbled sausage; sliced pepperoni or other cured meats; sun-dried tomatoes; etc.)
– Extra-virgin olive oil
– Salt and freshly ground black pepper
– Condiments for serving (ranch dressing, hot sauce, etc.)
Instructions
1. Preheat the oven to 500°F. Line two large rimmed baking sheets with parchment paper or grease them with a little olive oil.
2. Prep your toppings while the oven preheats, and place them all in separate bowls on a counter or table within easy reach of each pizza maker.
3. Cut the ball of dough into four equal-size pieces. Give one piece of dough to each person and let them roll, stretch, or press it out to a 6 to 8-inch circle. Try to avoid overworking the dough; encourage everyone to form their pieces into pizza-size circles and then get right to topping.
4. Place two rounds of dough on each baking sheet and let each person top their pizzas however they like! No combination of ingredients is off limits (as long as there's enough for everyone). As a general rule, two or three spoonfuls of sauce is plenty for individual pizzas. As far as the other toppings go, however, there are no limits! (Just know that the crust might be flimsy and wet in the middle if you pile on too much. Encourage your fellow pizza makers to grab pinches or spoonfuls rather than handfuls of toppings.) Pro tip: Making pizza faces (see photo above) or other patterns with colorful toppings will prevent pizza makers from overloading their crusts.
5. Transfer the baking sheets to the oven. Bake the pizzas for 10 to 15 minutes, rotating them halfway through, until the crust is golden and the cheese begins to brown in spots.
6. Remove the pizzas from the oven. Drizzle the pizzas with a little olive oil and season with a pinch of salt and a grind or two of black pepper, if desired. Let them cool for a few minutes before slicing.
7. Serve the pizzas on their own or with ranch dressing, hot sauce, or other condiments for dipping/topping.